Here's what's happening at CReATE STUDIO this month!CReATE is a great place for open-ended art, group gatherings, team building events and so much more! Check out our calendar with additional details below.

Quick Links to our popular pages: Birthdays and Gift Certificates  Camp CReATE Donations STUDIO Fees Field Trips Parent's Night Out Messy Toddlers
Machine Sewing School Projects Scouts, Troops and Odyssey Groups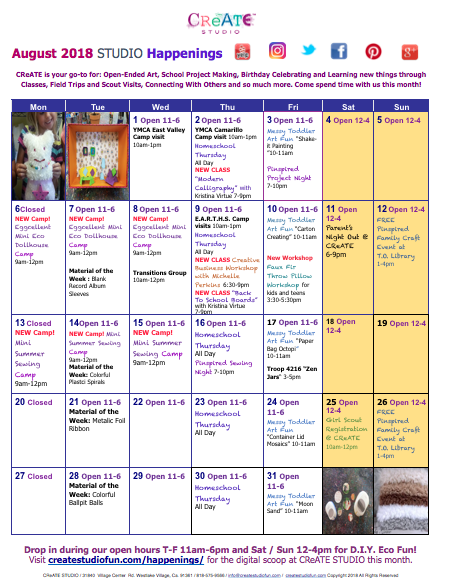 In addition to our monthly Happenings  activities, CReATE is the perfect place for group gatherings and company team building events. Our creative format welcome the exploring personal  creativity while getting connected to one another.
We can schedule private events after hours, Tuesday-Sunday based on studio availability.
Contact info@createstudiofun.com to ask about our event rates and to reserve a date.
A minimum of 7 participants is required for private studio time. Studio rental can also scheduled after hours.
Spotlight
Each month we're putting a spotlight on a different material base we have at the studio. This month we SPOTLIGHT "Pleather and Faux Fur" with tips, ideas and inspirations to share all month long.
Try-it!
We have "Paper Punches" to explore using on paper to create designs or cut out's for confetti fun!
Homeschool Thursdays 8/2-8/30- 11am-6pm.
Take advantage of our special rate for Homeschoolers and make a meet-up date or drop in throughout the day.
NEW Workshop! 8/2 "Intro To Modern Calligraphy" 7-9pm This is a Modern Calligraphy class lead Kristina Virtue at CReATE 7-9pm. Includes one framed glass and instruction in this specialty class to learn a timeless skill with a modern twist that you can use in so many ways! $50pp.
CReATE's Pinspired Project Night
8/3- Get your craft on at our monthly Pinterest inspired night! We have 5 great projects and you get three hours to make what you like and take it all home!
CReATE Camps!
NEW Mini Camp! Eggcellent Eco Doll Houses Mini Summer Craft Camp 8/6, 8/7, 8/8  9am-12pm We are so eggcited to offer this cool mini camp series at CReATE where kids age 7 and up can create and design their own awesome interiors for their 4 room cardboard doll house! This camp series includes all materials to create egg carton based tables, chairs, lamps, beds, couches and more PLUS they get a 4 room doll house to style it all together in! $95 pp. Call to sign-up at 818-575-9566. Space is limited for this camp.
NEW Mini Camp! Mini Summer Sewing Camp 8/14, 8/15 & 8/16 9am-12pm New and experienced sewers will sew at their pace to practice their sewing skills and sew fuzzy, cuddly toy animal projects to love. $95 pp. Call to sign-up at 818-575-9566. Space is limited for this camp.
NEW Workshop Faux Fur Throw Pillow workshop for kids and teens 8/10- 3:30-5:30pm Ages 7 and up will love this simple pillow making class * This workshop includes super basic Machine Sewing that kids can use in a snap! The emphasis is on the Furry Pillows here! $22pp Call to sign-up at 818-575-9566
Create A Successful Business You Love
7/12/18- 6:30-9:30pm. Building Your Business Strategically and Creatively. Financial Growth Coach,  Michelle Perkins of Limit Free Life and Jemma Wildermuth of CReATE STUDIO team up to connect your businesses financial strategy with creativity for business growth results you'll love! Keep the second Thursday of each month open for this ongoing series with Michelle at CReATE!
Back to School Chalk Boards with Kristina Virtue
8/9 7-9pm Kristina guides us through the skill and charm of modern calligraphy for everyday photo making fun with Back To School Boards. $50 pp
Parent's Night Out with Ms. Adriane
8/11- 6-9pm. Parents go out to dinner while the kids create! This evening is a win/win for everyone. The kids get a night of their own to create to their hearts content. Snack bag provided! R.S.V.P. space is limited. Contact us at 818-575-9566
A Pinspired Sewing Night at CReATE
8/16- 7-10pm , join us for monthly Pinterest inspired Machine Sewing with 5 easy projects to make your way and take home.
Material of the Week-One Week only!
8/1-8/31-Check out our featured "Material of the Week" items for this month! These items rescued from untimely demises do to forgotten, unwanted, out of date or just plain disposable lifespans. It's our goal to renew their paths into new inventions, creations and projects. What will you make with them this month?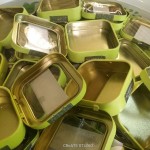 Donating to us?
Thank you for helping us to make every day Earth Day! Our donations days are: Thursdays, Fridays & Saturdays during regular business hours. Visit our donation page for the whole scoop on some of the new features that makes donating even easier.