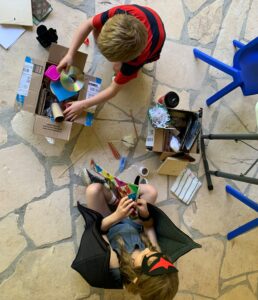 Be A Thinker And Tinker!
Our CReATE STUDIO Eco Craft Kits are perfect
for endless at-home creative fun and make truly great gifts that keep on giving. They are also an excellent addition to your at-home school supplies for project making that's just more fun.
Our cool kits contain a bounty of over 50 different new and recycled materials from cardboard pieces, different plastic things, paint, masking tape and glue to beads and strings, fabric samples, corks, tiny knick knacks,  ribbon, mesh and so much more-all compressed into a neat 8″x6″x5″ box (kit contents may vary).

Grab a box today to spark inspiration, foster imagination and promote conversations. Go ahead, open the box to a world of creative possibilities!
( kits contain small parts. They are not intended for children under age three)
Contact us and we'll hand pack one just for you!
Each Kit is $20.00 + tax
Contact us to order a box we'll hand deliver for $5 or we can ship to you in the USA for an added shipping fee of $8.00
Copyright © 2009 – 2022 CReATE STUDIO FUN, LLC. All Rights Reserved.