Bringing Mobile Pop-Up Eco Art Fun to you!

Learn more about the story of CReATE STUDIO and my passion for exploring eco-responsibility through art on the About page.
Stay connected with me. I post weekly on Instagram, send email blasts, and have YouTube videos featuring easy projects made with my Spotlight materials. Scroll down the page to see what I am offering this month. I hope to spend creative time with your family.
Regards, Jemma W.
Owner/ Founder
18

May 18, 2022

No additional detail for this event.

21

May 21, 2022

Join me for a Family Art Day at CMATO, inspired by exhibiting artist, Claudia Parducci's installation, 23 Columns. We'll use multicolored yarn to create a colorful image of a tree or trees, and experiment with different textures through knotting or unwinding materials. Admission to Family Art Day: Yarn Painting is free for museum members and a $6 donation for non-members. All materials will be provided. Register Here.
Happenings Event Dates and Quick Links

March- May – On Campus Enrichment Classes– click here for classes, dates and locations.
Saturday, May 21st from 2pm Family Art Day at California Museum of Art Thousand Oaks. Register Here.
Summer Camps: We have a full summer planned with unique and creative half-day camps offered through Conejo Valley Recreation and Park District (CRPD); Agoura Hills Parks and Rec and the City of Malibu. Check out our fabulous line up here.
Summer Workshops: are offered on Thursdays at 4:30 pm from 6/30 – 7/21 at Thousand Oaks Center learn more here.
CReATE Dates to you!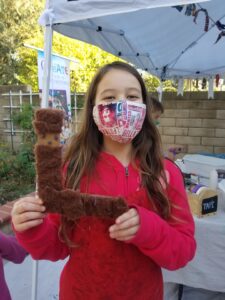 Just want to create?
I'd love to. Each gathering session is 1 hour of creating time and includes whatever we need and can included work tables, chairs or stools, CReATE STUDIO's signature eco-bin-selection, along with paint, glue, aprons and embellishments!
Please allow set up and wrap up time for your session. I will leave your home zone mess-free!
No food
Gathering of 5 kids $110
Gathering of 10 kids $165
Contact us to schedule a date.
Solo art dates for all ages are $30
See toddler date details here
Family Art Day with CMATO
Saturday, May 21, 2022 at 2:00 PM PT
Join me for an in person art session that is fun for the whole family! This month, we will be creating yarn paintings inspired by 23 columns by Claudia Parducci. Don't miss this fun hands on creative experience in person at the Oaks Mall.
Get details and sign-up in advance at CMATO.org.
Spotlight
This month it's all about glass! Check out the Spotlight page to learn about my focus on this and the other everyday materials we come across.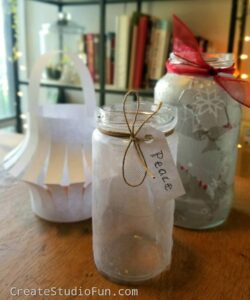 YouTube
Looking for some fun things to do while staying safer at home? Check out our weekly creating-at-home projects on YouTube! Check Out Our YouTube Channel
Eco Craft Kits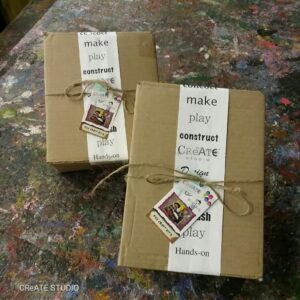 Our Eco Craft Kits are Perfect for creating on the go!
Get your hands on our Eco Craft Kits to give your creator a box of hands-on creativity.
Community Partnerships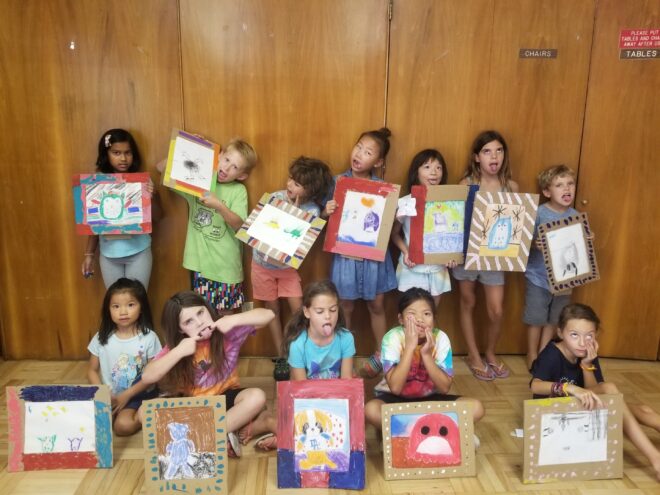 Partnering Up
CReATE STUDIO is proud to work with many organizations, libraries, museums, schools, and recreation departments within our community. Learn more here.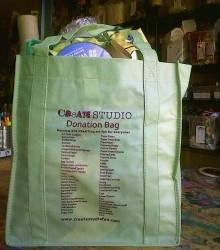 Thank you for your interest in donating items to the studio. Doing so helps us make every day Earth Day in a creative way! Donating materials is a win/win for our creators and our planet. Learn more here. Thank you!
Copyright © 2009 – 2022 CReATE STUDIO FUN, LLC. All Rights Reserved.