This is messy art fun where Toddlers and their Grown-Ups explore art together building connection and memories. Perfect for Toddlers 18 mo. to 3 years of age.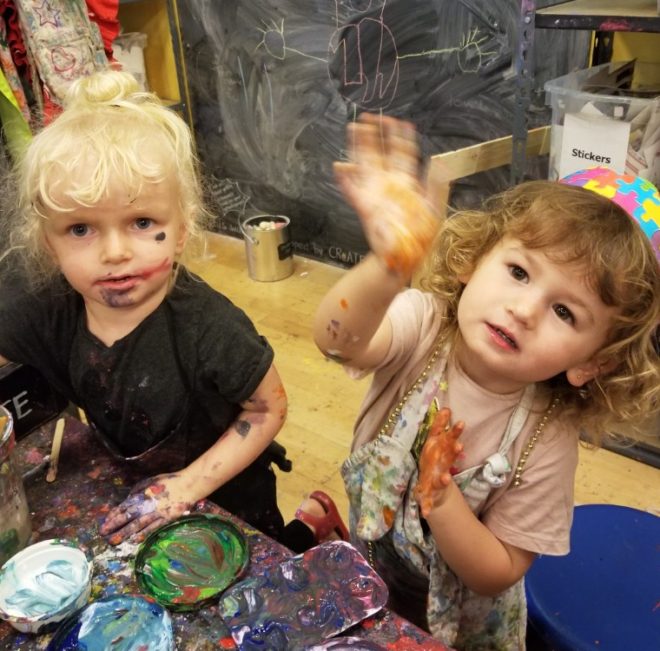 Exploration is the name of the game with our Messy Toddler Art Classes!
Jemma Wildermuth, owner of CReATE STUDIO hosts these creative explorations focusing on weekly hands-on art based fun.
This class connects toddlers and their mommies, daddies and caring adults with an evolving sense of curiosity and developmental awareness in CReATE's yes-to-mess setting! Our weekly featured project explorations are listed below. We also have a host of additional activities set up with the curious toddler in mind each week.
Toddlers can explore the studio and our activities at their pace in an organic way to try new things and tune into what they find most interesting and curious.
Join us Thursday mornings for messy art fun from 10-11am, $13 per Toddler.
Pre-pay here for a super speedy start to your Messy Toddler experience. Drop-ins welcome too!

SaveMessy November Art Explorations
11/7 "Salt Painting"
Mixing glue (a toddler favorite) with salt and watercolor brings eye catching results for little ones.
11/14 "Fun and funky Salt Dough Play"
Toddlers love to squish, roll and cut play dough with their busy curiosity leading the way. This salt dough is textury and colorful for happy exploration.
11/21 "Making Pinecone Turkeys"
Turning pinecones into turkeys will be so fun as toddlers explore giving them flair with feathers and paint in their own unique way.
*No class 11/28 due to the Thanksgiving Holiday
Copyright © 2009 – 2019 CReATE STUDIO FUN, LLC. All Rights Reserved. 
Save