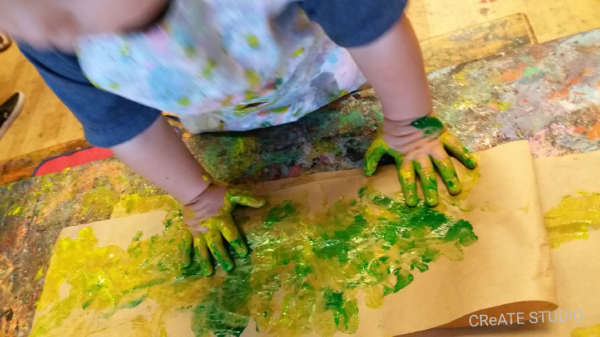 Messy Art Fun for Toddlers and their Grown-Ups to explore together building connection and memories.
Perfect for Toddlers 18 mo. to 3 years of age.
Exploration is the name of the game with our Messy Toddler Art Classes!
Jemma Wildermuth, owner of CReATE STUDIO hosts these creative explorations focusing on weekly hands-on art based fun.
This class connect toddlers and their mommies, daddies and caring adults with an evolving sense of curiosity and developmental awareness in CReATE's yes-to-mess setting! Our weekly featured project explorations are listed below. We also have a host of additional activities set up with the curious toddler in mind.
Toddlers can explore the studio and our activities at their pace in an organic way to try new things and tune into what they find most interesting and curious.
Join us Thursday mornings for messy art fun from 10-11am, $13 per Toddler.
Pre-pay here for a super speedy start to your Messy Toddler experience. Drop-ins welcome too! 

Messy May Toddler Art Explorations
Week #1- 5/2 "Sponge Painting" Cause and effect are important toddler teachers. Using sponge shapes to stamps on paper reaps happy cognitive rewards, again and again.
Week #2- 5/9 "Water Colors" Spray it, paint it, pour it! For toddlers it's all about do it yourself tasks. Our water color combos lets them be masters with spray bottles  and keep it cool too!
Week #3-5/16 "Let's Paint the Town" Painting where you play is the ultimate in imaginative fun! With our washable paints and great big boxes, painting and playing become a happy one.
Week #4-5/23- "Feet Painting" We thought finger painting was fun until we tried feet painting! To make it even more fun toddlers will get to make their little feet prints into butterflies! Delightful!
Week #5-5/30-"Kaleidoscope Cases" This week we capture the wonder of color, shape, light and form in CD jewel cases to hold to light wherever toddlers go!
Save
Save