CReATE STUDIO is a wonderfully unique art studio that offers an artistic mash-up between recycling and art to bring hands-on creativity to all ages through the reuse of everyday things. We are all about creative exploration and engaged in an ongoing effort to lighten our carbon footprint along the way.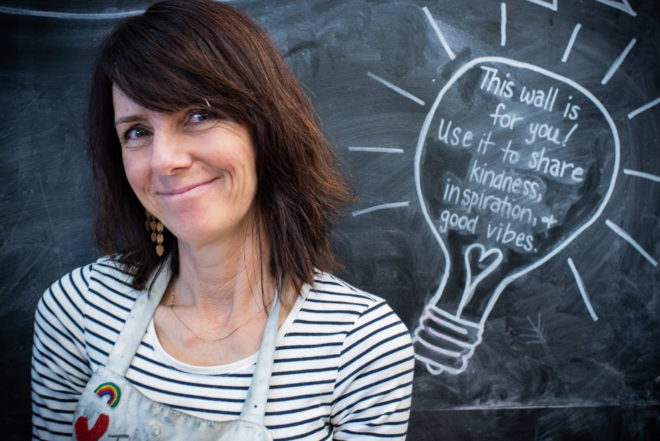 Photo Courtesy of Vintage Fox Photography
My Story
Founded in September of 2008 and opening to the public in March of 2009, CReATE STUDIO began as an inspired idea following a family visit to a museum where the free flow of creativity was infectious. Moved by the process of watching kids and adults get caught up in the act of creating in a hands-on way with the freedom to make things from inspiration itself. I knew I wanted to have more of that kind of experience and I wanted others to have it too.
This idea contained the notion that creativity is part of our innate nature to express ourselves. The STUDIO was established to offer a means to connect with that aspect of ourselves and to share it with others in a setting where everyone is WOW worthy!
"I see CReATE STUDIO as a vehicle for providing an environment of warmth, creativity and unbounded inspiration for all ages to enjoy. This is the stuff of dreams!
The building of new and untapped ideas and talents leads to a future of bright thinkers and great problem solvers for generations to come. This is a place where a shoe box becomes an Android, a bottle cap a Scorpion's claw, or an egg carton cup becomes the prettiest springtime Flower you ever saw…"
This is a place from my heart, to yours.
Enjoy!
Jemma Wildermuth, Founder & Owner CReATE STUDIO
Our Mission
Our Mission at CReATE STUDIO is to bring creative exploration to everyone through art in an open-ended way by using recycled materials.
Our creative process fosters curiosity, imagination, discovery, inspiration, critical thinking and problem solving to all ages.
Creativity is an integral part of the human thinking capacity. At CReATE we think of it as a "thinking muscle" in our brains that needs regular exercise to work optimally. Creativity is a tool for living and we are here to help you use it.
Our Community
We love supporting our community. Check out our Non-Profit Organization, CReATE ON YOUR CAMPUS ( C.O.Y.C.) which provides schools with similar reuse sensibilities, recycling their own campus materials for use in creative and curriculum based ways. Click here to learn more about C.O.Y.C.
Meet our creativity team:
CReATE STUDIO FUN, LLC. All Rights Reserved. Copyright 2009-2018 All images and ideas shared here are CReATE STUDIO property. If you would like to use and image or share one of our ideas please contact us to do so.