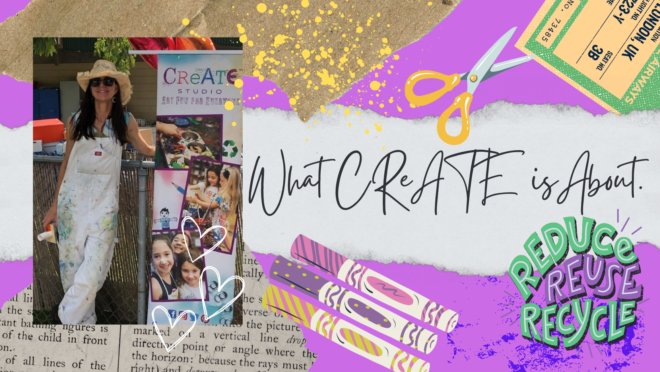 CReATE's Mission
To provide creative outlets and environmental awareness through artistic exploration, recycling and reuse.
Welcome
Welcome to CReATE STUDIO, I'm Jemma, the owner, and founder of CReATE STUDIO. I created the studio to provide opportunities for kids to connect to their creativity through the reuse of everyday items mostly intended for the recycling bin or landfill. I see firsthand, how working with recycled materials nurtures a mindset to look beyond what things are and instead imagine what they could be. I love how kids light up when they have the time and space to explore their ideas and inspirations. Children become aware that all things have potential, even if we can't see it at first. More broadly, this translates into children garnering a greater appreciation for the potential inside themselves.
Through my artistic mash-up between recycling and art, kids develop an organic, hands-on understanding of the benefits of recycling, reusing, and reducing waste; creating the next generation to help our planet. I offer after-school enrichment programs throughout the community as well as on-site school field trips, community events, camps, birthday parties, and CReATE Dates. You can learn more about these activities on my Happenings page.
Create at home with my Creating-at-home YouTube video series for simple projects to create at home using recycled materials. Visit the Donation page to learn about the recycled materials we reuse and how you can get involved.
History
I founded CReATE STUDIO in 2009. I had been inspired to create the studio following a visit with my two daughters to our favorite museum in LA. where the free flow of creativity was infectious. I was so moved by the time we spent there. We spent hours caught up in creating. I watched other kids and families get caught up in creating too. There was total freedom. The space itself became inspirational.
I knew I wanted to have more of the kind of experience of that afternoon and I wanted others to have it, too. I have always had a passion for recycling and reusing odds and ends in my own creative projects. In fact, it's a staple in my art and creativity. Because the museum exhibits were centered around recycling I saw how my own way of creating fit into my vision for others, too.
I truly believe creativity is part of our innate nature and it's how we express ourselves. In fact, I have come to think of creativity as a thinking muscle in our brains. Establishing CReATE STUDIO forged a means for everyone to connect with that experience by making with recycled materials. It's art fun for everyone.
The building of new and untapped ideas and talents leads to a future of bright thinkers and great problem-solvers for generations to come. This is a place where a shoebox becomes an Android, a bottle cap a Scorpion's claw, or an egg carton cup becomes the prettiest springtime flower you ever saw.
This is art space, in all its forms is a place from my heart, to yours.
Enjoy!
Jemma Wildermuth, Founder & Owner CReATE STUDIO
CReATE with Schools
We love supporting our community and schools so we formed a Non-Profit Organization, CReATE ON YOUR CAMPUS ( C.O.Y.C.) which provides schools with similar reuse sensibilities, recycling their own campus materials for use in creative and curriculum-based ways. Click here to learn more about C.O.Y.C.
Copyright © 2009 – 2023 CReATE STUDIO FUN, LLC. All Rights Reserved.