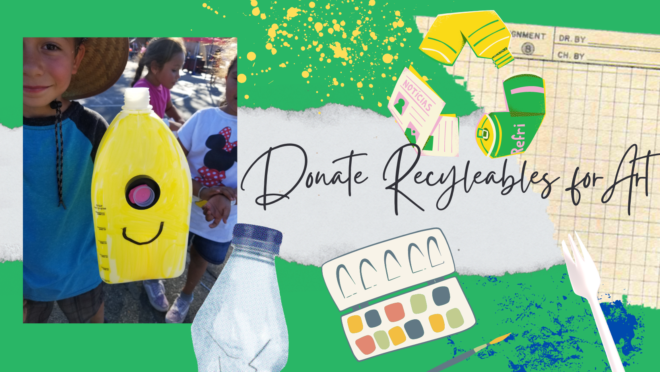 "Nothing in nature is exhausted in its first use"
-Ralph Waldo Emerson
Thank you for your interest in donating recycled materials for art. I'm Jemma, the owner, and founder of CReATE STUDIO.
I am passionate about creativity and reuse. I created the studio to provide opportunities for kids to connect to their creativity through the reuse of everyday items often headed for the recycling bin or landfill. Your donations can (once I sort and organize them) become part of the array of recycled materials I use for open ended art and projects with kids.

I am only collecting materials on this list.
If you have something that is not on this list that you want to ask about, you can email me at [email protected] 
Click here for a printable donation list. 
"You are doing such a service for our environment plus stimulating all ages to be creative.  I really appreciate what you do…" Jean Gilbert Hawkins
I offer a curbside pick-up of your donations from your home. Use the Sign-up Genius links below  to schedule your pick-ups.
1. Gather your CLEAN donation items to be picked up.
2. Have no more than 3 bags or boxes for your planned pick-up.
3. Mark your donations "CReATE STUDIO"
4. Set them out for pick-up on your scheduled pick-up day.
Tuesdays in Oak Park:

Wednesdays in Agoura & Westlake:

Thursdays in Thousand Oaks:

Fridays in Newbury Park, Camarillo, Moorpark & Simi Valley:

The Recyclables list:
*I am not able to accept used craft paints, house paints, medicine & vitamin bottles or cleaning supply containers.
Beads
Bottle Caps
Buttons
Cardboard Box Pieces
Cardboard Coffee Trays
Colored Paper
Container Lids (beverage and food)
Corks
Clothes Pins
Clothing Tags
Craft Foam
Egg Cartons (max 4 per family)
Empty Thread Spools
Fabric Pieces
Fabric Trimmings
Fancy Trimmings
Faux Fur Pieces
Feathers
Game Pieces
Glass Jars (max 4 per family)
Greeting Cards
Keys
Magazines (max 4 per family)
Maps
Mesh Fruit & Vegetable Bags
Mismatched Socks
Old CD's (max 10 per family)
Old Calendars
Old Jewelry/Broken Pieces            
Paper & Plastic Bags
Paper Cups
Paper Plates
Paper Towel & T.P. Rolls
Patterned Paper
Plastic Bottles
Plastic Cups
Plastic Six-Pack and Jug Handles
Plastic Bread Closures
Playing Cards
Pipe Cleaners
Popsicle Sticks
Postage Stamps
Puff Balls
Puzzle Pieces
Raffia
Ribbon
Sequins
Shoe Boxes
Small Boxes
Small Food Containers
Small Machine Parts & Remote Controls
Small Toys and figures
Small Wood Scraps
Snack & Cereal Boxes
Soda Pop Can Tabs
Stickers
Stray Game Pieces
Stir Sticks
String
Tin Cans (max 6 per family)
Tissue Boxes (max 6 per family)
Tissue Paper
Tooth Picks
Twist Ties
Yarn
Wrapping Paper             
                                 
Have School Supplies? Collect for our for CReATE's non-profit partner; CReATE ON YOUR CAMPUS
     creatonyourcampus.org    
Crayons
Classroom Trim Decor
Colored Pencils / Pencils  / Pencil Sharpeners
Highlighters / Markers
Kid Scissors / Rulers
Copyright © 2009 – 2023 CReATE STUDIO FUN, LLC. All Rights Reserved.