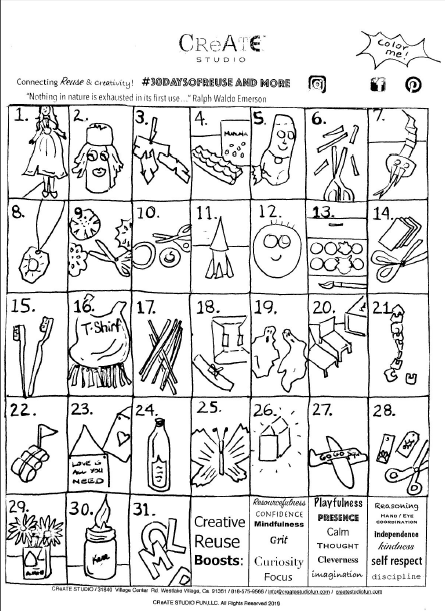 It's time for our annual #30daysofreuse campaign on instagram! We've  created a CReATE STUDIO #30daysofreuse Coloring Calendar with a different project idea for each day of the month up to 32 days! Click the link and print our coloring sheet and get started! 
Here is the full line-up of reuse idea prompts to get inpsired by.
1.Fashion a Costume or Outfit from yesterdays newspaper.
2. Construct a Character from a T.P roll.
3.Turn a cardboard box into Building Blocks.
4.Make an egg carton into a Mancala Game.
5.Remake a solo sock into a Sock Puppet.
6.Cut up the tops of plastic food packaging for homemade Confetti.
7.Design a Snake out of paper!
8.Recreate a piece of Cardboard into a Necklace Pendant.
9.Fabricate Snowflakes from coffee filters any time of year!
10.Streamline plastic lids into rings for a Toss-Across Game.
11.Build a T.P. Roll into a Rocket Ship.
12.Embellish a Drawing or Painting using container lids as eyes for your art.
13.Rework an egg carton into a Paint Tray.
14.Engineer old papers into Note Paper or pages for a Mini Book.
15.Reuse old tooth brushes as Paint Brushes!
16.Overhaul an old t-shirt into a no-sew Tote-Bag.
17.Fashion a set of Pick-Up Sticks from kabob skewers.
18.Use magazine pages as Wrapping Paper.
19.Shape used dryer sheets into Ghosts or Clouds for a picture.
20.Rework a cereal box into Furniture for toys.
21.Collect bread bag closures and use them to make links for a Chain.
22.Bundle wine corks into a Boat that floats.
23.Refurbish greeting cards into inspiring Signs.
24.Upcycle a beverage bottle into a Wizards Potion Bottle.
25.Fold a magazine page into a Butterfly.
26.Renovate a cardboard box into a mini House.
27.Create an Airplane from a snack box.
28.Rejuvenate old greeting cards into Gift Tags.
29.Make over a drink carton into a Flower Vase.
30.Revamp a mason jar into a Tissue Holder.
31.Shape the Letters of your Name from a food box.
Copyright © 2009 – 2020 CReATE STUDIO FUN, LLC. All Rights Reserved.