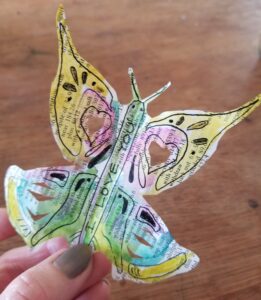 I love casting a Spotlight on the recyclable materials we reuse at the studio. I believe that by reusing things as art materials we unlock our creativity and support our planet all at once!
This month I feature Paper in its various forms. Paper items can be found all around us in the things we use everyday, coffee filters, wrapping paper, sticky notes and so much more!
I'll share snippets of curiosity like; how this material inspires us, how they get donated, and how we use them. I explore what people make with these materials, where they come from, what artists are doing with them as well as their impact on our planet. Sign up for my weekly newsletter and follow @createstudio on instagram to see these snippets throughout the month.

Check out The CReATE YouTube channel to see what you can do with this recycled material.
You'll see these spotlight snippets on the studio blog, Instagram, Youtube, as well as my Spotlight boards on Pinterest.
Through Spotlight I hope to build interest, curiosity, and awareness of the earth to trash journey of the everyday items used in our community, creating an investment in their reuse through creativity and mindfulness.
Here's the list of the spotlight materials by month.
January: Cork
February: Yarn & String
March: Wood
April: Metal
May: Glass
June: Shells & Stones
July: Plastics
August: Ceramics
September: Paper
October: Cardboard
November: Natural Things
December: Fabrics
Copyright © 2009 – 2022 CReATE STUDIO FUN, LLC. All Rights Reserved.
Save