30 Days of Reuse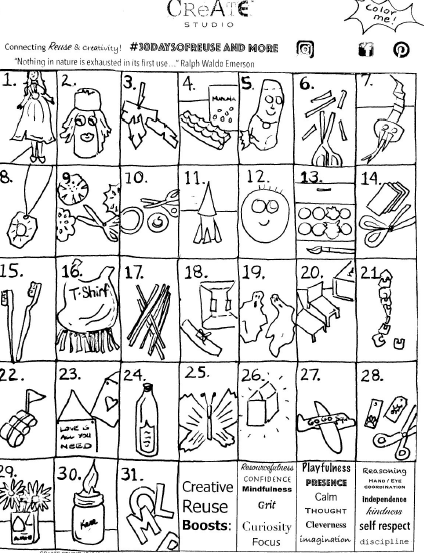 As we are all in the stay-at-home mode we've got a great creative resource for a whole month of fun!
Explore our 30 Days of Reuse calendar with tips and ideas for creating at home every day with things you already have! The calendar is even a coloring page for the doodlers in your home.
We kick of the month with news print clothing on day one. Use the Sunday paper to make a shirt, skirt, hat or accessory. All you need is newsprint (wrapping paper, tissue paper or regular paper work great too.) and tape or a stapler for fastening pieces together.
The whole family can CReATE something to wear-then flaunt it all with a mini fashion show!
This is a time for resourcefulness and creativity. Our 30 Day Calendar is a great way to tap into those skills for fun.
We would love to see what you make. Tag us on Instagram @createstudio