Art in the Park this Sunday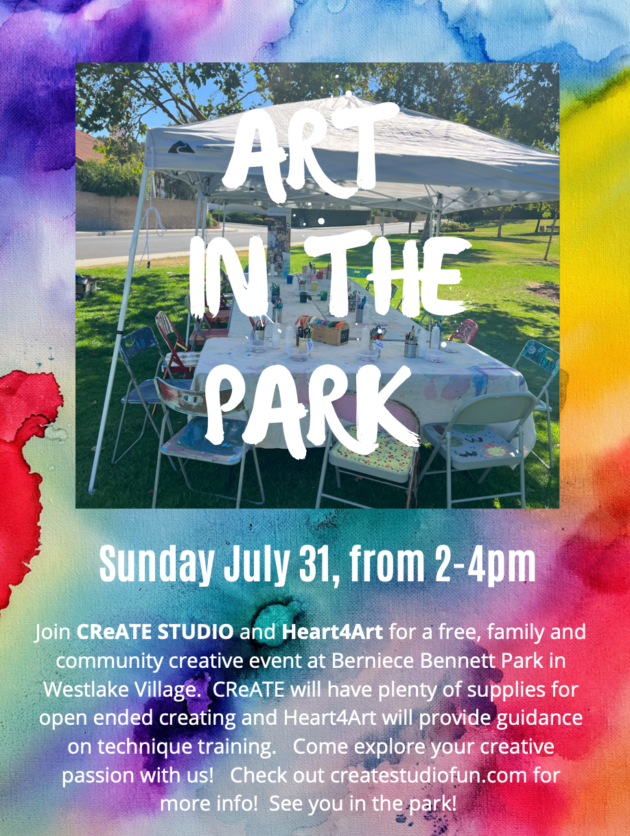 I couldn't be more excited for Art in the Park this weekend! I'm hoping to see your familiar faces — and some new ones too! It has been wonderful to hear fond studio memories from those of you who shared with me that you miss being able to drop into the studio to create!
Part of my vision when I transitioned to a mobile pop-up format was to bring my studio back to our community for open-ended art at the park, creativity and fresh air just go together! What better park than the one across from my old studio location- Bernice Bennett Park in Westlake Village.
Drop in anytime between 2 and 4pm on Sunday at Berniece Bennett Park (31800 Village Center Rd, Westlake Village) to create. I'll have my signature bins of inspiring recycled materials for open ended creating! I'm also particularly excited that my friend Sharon from Heart4ART will be joining me to share some of her wonderful artistic techniques with you! This is a free community event ( any donations to benefit our non-profit, CReATE ON YOUR CAMPUS are welcome).
Drop by and share the joy of art with us. We look forward to seeing you in the park!
Warm Regards,
Jemma
Owner/Founder CReATE STUDIO