This is messy art fun where Toddlers and their Grown-Ups explore art together building connection and memories. Perfect for Toddlers 18 mo. to 3 years of age.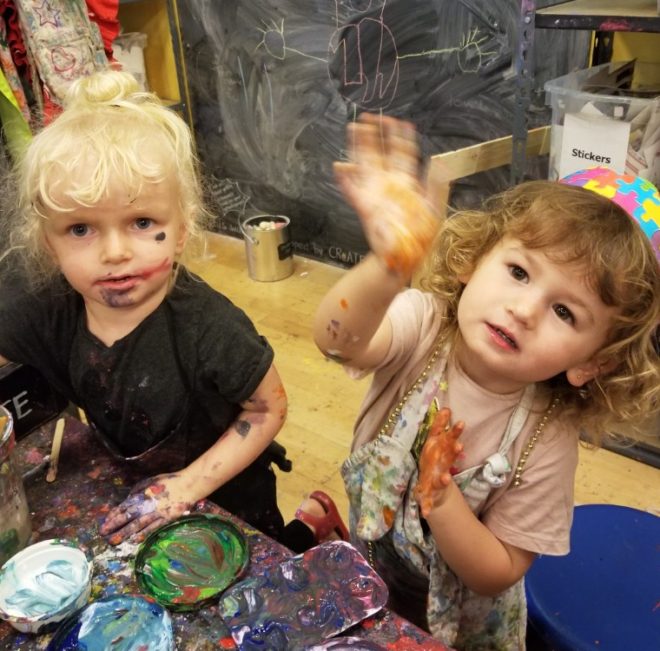 Exploration is the name of the game with our Messy Toddler Art Classes!
Jemma Wildermuth, owner of CReATE STUDIO hosts these creative explorations focusing on weekly hands-on art based fun.
We connect toddlers and their mommies, daddies and caring adults to an evolving sense of curiosity and developmental awareness in CReATE's yes-to-mess setting! Our weekly featured project explorations are listed below. We also have a host of additional activities set up with the curious toddler in mind each week.
Toddlers can explore the studio and our activities at their pace in an organic way to try new things and tune into what they find most interesting and curious.
Join us Thursday mornings for messy art fun from 10-11am, $13.50 per Toddler.
Pre-pay here for a super speedy start to your Messy Toddler experience. Drop-ins welcome too!

Messy March Art Explorations
3/5-Dropper Painting-Using paint droppers toddlers explore one of their favorite cognitive notions-squeezing as they create nifty combinations of color.
3/12-Lucky Shamrocks-In the spirit of St Patricks Day, toddlers make fun and funky shamrock shapes with fancy green and gold flair!
3/19-Ice Cube Painting-Slippery colored ice cubes are the name of the game when it comes to this cool form of painting. Toddlers will marvel as their colorful cubes glide across the page in colorful patterns.
3/26-String Painting-Painting and gluing with string makes a swirl of stained glass color on clear sheets as it swirls around in a colorful mix.
Copyright © 2009 – 2020 CReATE STUDIO FUN, LLC. All Rights Reserved. 
Save