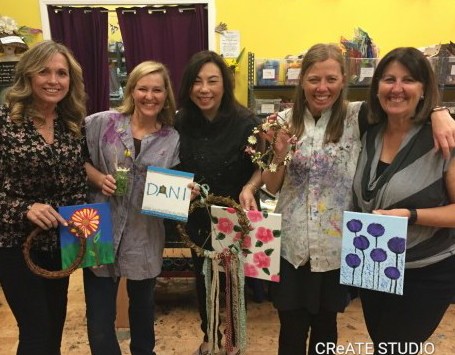 Join us for our awesome monthly D.I.Y. workshop evenings at CReATE!
The first Friday night of each month we host crafty project nights based on Pinterest ideas e choose. We offer a variety of five different projects each month. Create the the projects you like in the way they are pictured or your own way. This night is about you.
All project choices are intended to inspire you. Creating during these evenings is all about you. We hope you love what you create and how you feel when your creating it.
Visit our Pinspired Board on Pinterest at CReATE STUDIO to see all kinds of related pins.
Next Pinspired Projects Night:
Friday, November 1st, 7-10 pm
Be sure to R.S.V.P!


Come out with friends or come solo to make crafty, creative projects that make you feel good because creating with your hands feeds your soul.
The fee is $30 per person and includes three hours of studio time, all materials needed for the featured pin projects and project making support by Jemma Wildermuth, owner of CReATE STUDIO. 

B.Y.O.B. and Friends!! The more the merrier we like to say.
Mark your calendar for our next Pinspired Project Date: 12/6


Copyright © 2009 – 2019 CReATE STUDIO FUN, LLC. All Rights Reserved.
Save