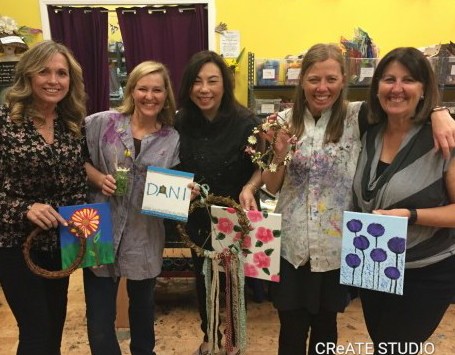 Join us for our awesome D.I.Y. workshop evenings at CReATE!
We are moving to a new seasonal based format with Projects that connect with the various holidays and seasons of the year with our same great multi project option format the first Friday of every other (odd) month.
Feel free to create the the projects you like in the way they are pictured or your own way. This night is about you and expressing your creativity.
We hope you love what you create and how you feel when your creating it.
Visit our Pinspired Board on Pinterest at CReATE STUDIO to see all kinds of related pins.
Next Pinspired Projects Night:
T.B.D.

$31 per person and includes three hours of studio time, all materials needed for the featured pin projects and project making support by Jemma Wildermuth, owner of CReATE STUDIO.
B.Y.O.B. and Friends
RS.V.P to 818-575-9566
Copyright © 2009 – 2020 CReATE STUDIO FUN, LLC. All Rights Reserved.
Save