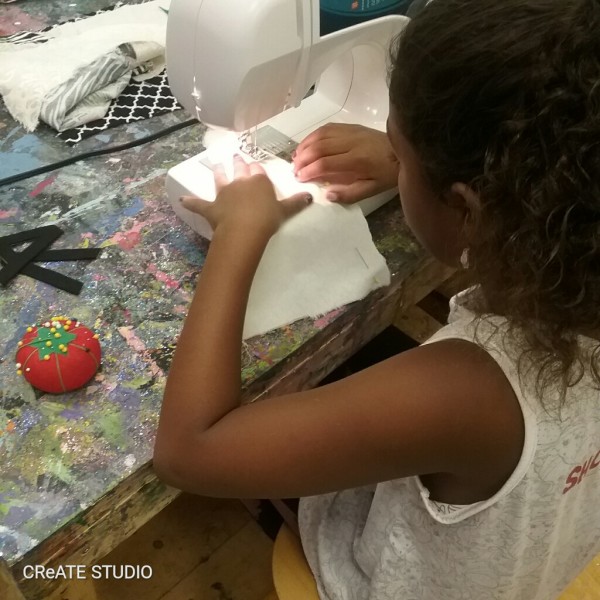 Let's sew!
Machine sewing is a great way to tap into creativity, exploration and imagination. We love the hands-on process for learning and discovery that machine sewing provides.
Join us at CReATE to learn machine sewing basics and project opportunities in our New Friday Fun Workshop rotation. We are excited to offer a new format for our Machine Sewing Classes series with beginning sewing and project sewing combined to give more sewing experience, practice and making to sewing kids over 4 Friday afternoons!
Sewing builds life long skills for kids and adults. Boys and girls alike are sure to love what they can make one stitch at a time!
We can also arrange individual private sewing sessions for parent/ child and adult classes! Contact us to schedule a special session just for you!
Parent/Child private sessions are two, 2 hour sessions for $90 for parent and child, siblings are an additional $15 each.
Individual Private sessions are also two, 2 hour sessions for $70 per individual.

Contact us to register for our next sewing series.
Call us at 818-575-9566
Read about our Machine Sewing Workshop Series: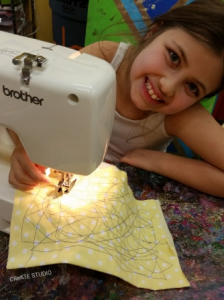 Exploring Machine Sewing for Kids is both an introduction to Machine Sewing and Project Sewing together so kids who are new to machine sewing get to learn the ins-and outs of machine sewing and sewers with prior experience can explore sewing the projects they want to make.

Dates and Times: T.B.D.
Fee: $80 for all four dates, $22 per individual date.
Materials: All fabrics and materials provided. Students will receive a sewing grab bag at the close of the class series to inspired continued sewing at home. If students have machine they can bring them along to build confidence to sew with their own machine. We also have machine at the studio they can use.
Class Teacher: Jemma Wildermuth
Whole monthly series overview; during the first two sessions we'll explore the ins-and-outs of machine sewing and develop sewing habits with weekly practice to build sewing confidence. We'll go over machine basics, explore the manual as a resource for trouble shooting as well as sew on different fabric textures and different machine stitches. We'll end the series with a simple pillow project, making a pillow form and a coordinating pillow case. They will continue to sew over the second two weeks to make projects they desire through our project resource books and our Pinterest Sewing Page! If kids are seasoned sewers they'll have lots of practice and experience sewing projects their way in our supportive sewing environment.
Bring any of these along if you have them:
A sewing machine (this is ideal) and the following tools listed below if you have them. Not to worry if you don't, we have extras on hand if needed.
*Sewing Machine & Manual
*Scissors
*Straight Pins
*Seam Ripper
*Measuring Tape
*Safety Pins
*Pin Cushion
*Sewing Box to keep tools & supplies in
Check out our Pinterest sewing project board for inspirations and ideas!
Copyright © 2009 – 2020 CReATE STUDIO FUN, LLC. All Rights Reserved. 
Save