We're 10!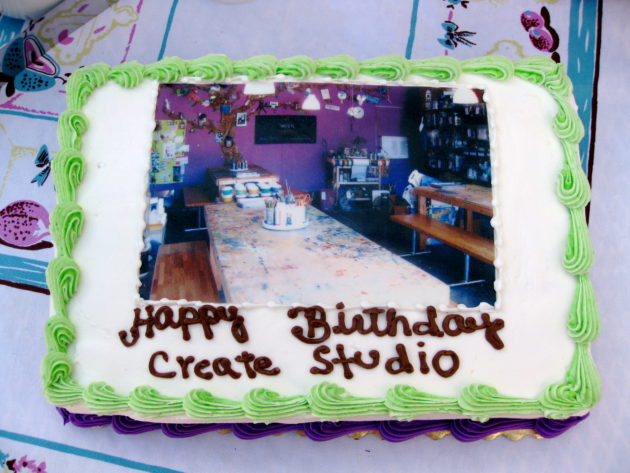 WOW! We're 10 this month!
Tuesday, March 6th was our opening day back in 2009. What a journey it's been so far. I started building the studio with an inspired Idea that I actually followed through on (not my usual m.o. back then). I worked to create the studio using some hard learned lessons from having a tiny quilt company of fun and funky children's quilts called, "Story Quilts". I did that with my friend Roberta Durra, a fellow Costumer I got to know in the early 90's. Our ;little company's rise and fall centered around our artful blankets and, a super tough Rep at the Mart that all met it's end when Barney's went Bankrupt! Basically Roberta and I quit that business after the Barney situation and went on to start families, never looking back. Years later when I had the idea to create CReATE I found myself drifting back to our Story Quits saga and realized we had quite before we really saw where it could go. This time I wouldn't quit. That gave me the steam I have needed to keep on trucking through these last ten years of creativity, reuse, business and tons of donations! I am so happy I have. At year 10 I am stepping into some bigger environmentally sustainability shoes as we deal with material donations way outside my comfort zone in terms of quantity and variety. It gets me thinking, how can we reuse these things and who can we share them with? Landfill is not an option.
It's a good thing we're here. Reusing is a cohesive and practical way to keep post-use items and materials out of land fills. Reusing them is our fun. Thinking back to the beginning I knew that using recycled materials was the way I wanted to create freedom in art but what has unfolded is just sheer creativity. The exciting challenge that comes with exploring concepts and ideas with the materials all around us sparks joy and creates a shift in how we see the everyday things that are donated to us. I think we are creating change if even just a little. To me a cracker box will never be just a cracker box again. It has becomes limitless possibilities for me and I hope it does the same for others too. We are all the stewards of this planet, as they say, there is no planet B.
Year 10 is marking the next wave of creativity for CReATE and how we make reuse THE way.
Though we don't have that little quilt company anymore I see it's lessons unfold for me all the time. Stay with it they say. The best is yet to come.